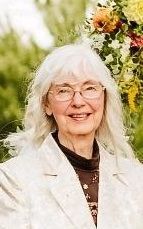 Dawn Winona (Hartzell) Clark, 81, went home to be with the Lord November 7, 2023 at Aspirus Hospital in Medford, surrounded by family.
Dawn was born July 2, 1942 at home in Gilman to Lowell and Goldene Hartzell. She grew up in the town of Gilman and graduated from Gilman High School in 1960. Dawn married Keith Clark on January 16, 1960 in Reedsburg, Wi.
Dawn was a stay-at-home mom and they raised 4 children; Sheldon, Cindi, Doreen, and Bryan. She loved spending time with her grandkids and her two dogs Bella and Dayze. Dawn loved plants, horses, cows, birds, sewing, reading, and decorating her home. She also loved flower gardens, solar lights, vegetable gardening, canning, and enjoyed farm life.
Dawn put her trust in Christ in 1978 and was baptized in the Flambeau River in 1982. She had a very close personal relationship with Jesus and prayed for her family and others to know Him. She loved people unconditionally and was respected for her passionate love for the Lord.
She is survived by her Husband Keith Clark and children: Sheldon Clark, Cindi (Steve) Kuchta, Doreen Clark, and Bryan (Karen) Clark. She is also survived by grandchildren: Laci Clark, Jonathan (Emily) Clark, Jesse (Amanda) Clark, Chayse(Rachael) Clark, Terina (Jaden) Kuchta-Myers, Silas (Marisa) Kuchta, Isaac Kuchta, Nicole Adams, Josh (Beki) Adams, Autumn (Jeff) Breunig, Mari? Clark, Justin Clark and Coltyn Clark. In addition, Dawn had 19 great-grandchildren with one more on the way.
She was preceded in death by her parents, Lowell and Goldene, her brother Larry Hartzell, and two grandsons, Corey Clark and Andrew Clark.
Visitation and Services will be held at Plombon Gilman Funeral Home. 135 W Riverside Dr, Gilman, WI 54433. On Wednesday Nov, 15th 2023. Visitation starts at 9:30 am, Funeral at 11:00 with grave side service following funeral in Meadowbrook CemeteryGilman. Meal to be served immediately after grave side service at Northland Baptist Church, W14530 County Rd M Gilman, WI 54433.